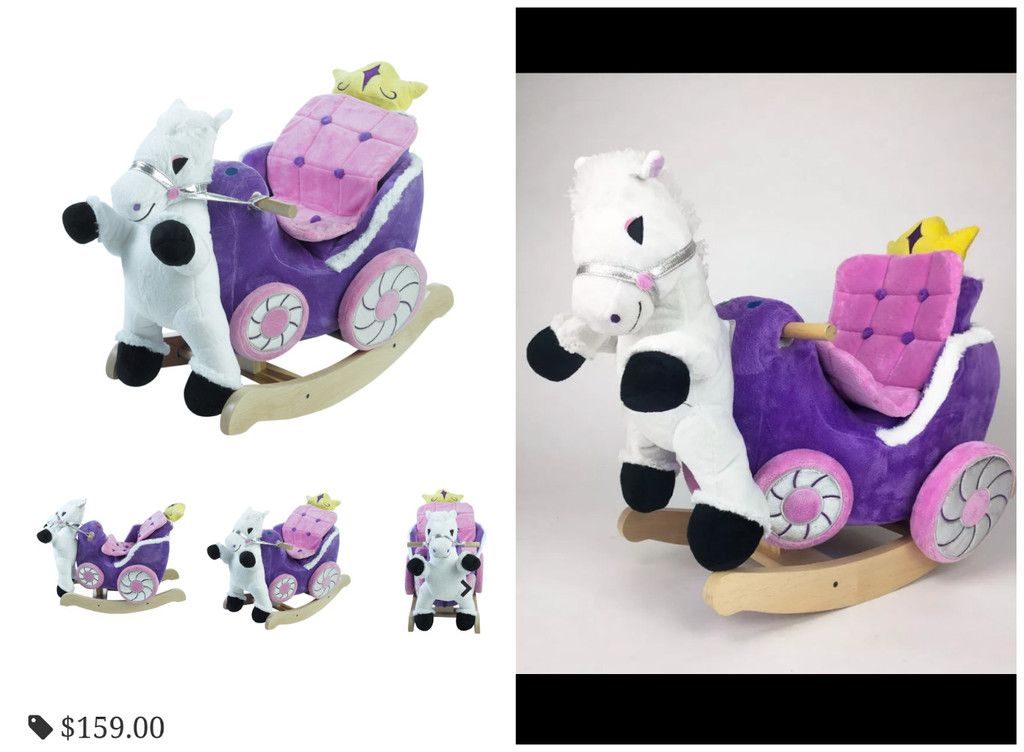 I first saw the advertisement for this company's rocker on Facebook. I clicked on it because the rockers are absolutely adorable and they were advertised as 40% off plus free shipping. So I checked their site out of curiosity, thinking that if they're reasonable enough I might just buy my baby Angela one for Christmas. Well, I was so disappointed to find out that the rockers are priced at $159 (pictured above on the left) and even after 40% off and free shipping, it is still very pricey! But I already made up my mind that this is what I want to get my little princess for Christmas.
I browsed online thinking that I would be able to find it cheaper than the company's website. I saw some on Zulily for $69.99 plus shipping, still expensive in my opinion! I looked on Ebay, there are a lot of them listed, most are still retail price! I wasn't looking for specific design! I kept looking and looking until I found the Princess Carriage Rocker pictured above on the right. That was the actual picture listed on Ebay. It was listed as used, asking price was $69.99 with free shipping, and the seller was accepting offers. After reading the descriptions, I found out that the electronics in it didn't work, but I didn't really care about the electronics built in, that's just less noise that we'll have to deal with! So I thought maybe I will send an offer for $40 since the electronic didn't work. I sent my offer and lo and behold, I got a response immediately that the seller accepted my offer! I was so thrilled about it because I saved so much money from buying it brand new! There are things that I do not mind buying used, as long as they're clean and sanitized and not undergarments! LOL! The baby is not going to care if a toy is used or brand new or how cheap or expensive it is! The fun that she'll get out of it is the same no matter how new or used or cheap or expensive it is!!
Anyway, the rocker came the other day. I am really pleased that it looks new! I was really curious about how the baby would react to it, so I let her ride on it for a few minutes and she ABSOLUTELY loved it!! I really hated that I had to put it up 'coz I have never seen her enjoyed something as much as she did with that rocker! I am really excited for Christmas to come, not because so I can get gifts, but so I can see my kids open their presents, especially my baby girl, it will be her first Christmas and I cannot wait to see her enjoy that rocker again!!!